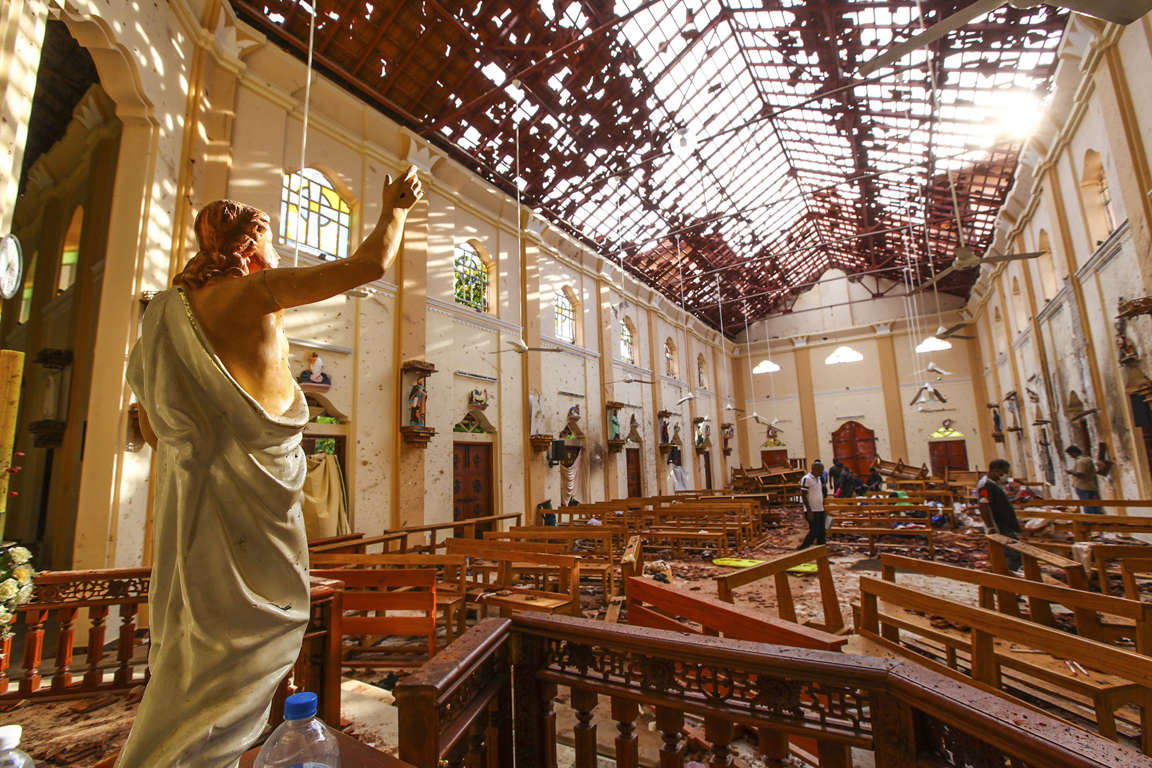 Easter Sunday a very special time of year for so many, I get the fact that not all are of the same faith, but with that said, doesn't give me the right to go out and create carnage, because others are of different faiths than I. If you can't even go to a place of Worship on such a sacred day, then really there is no where to turn from these types of Individuals.
We are all so unique to each other, but yet there are some that just do not want to except that fact. Our uniqueness is what makes us better as we walk our paths, this is how we survive throughout this journey, we do not have to become friends with everybody, we just have to learn to live with each other, as we walk our paths of this journey through life. With what happened in Sri Lanka should make you sad and if it doesn't, then you need to get back in touch with your true feelings. Nobody should have to be afraid to walk into their place of Worship, no matter of who you are, or of whatever faith you are.
There is so much chaos going on around us, that true it is possible for each of us to become numb by it all, but because we are becoming numb, doesn't mean we should lose our true feelings or even further the chaos by ignoring it either, we need to stand up and be counted, we need to unite even more than ever before, so we can end this type of behavior by some of the rest of us. This journey through life doesn't have to be about watching your back, or maybe hiding within yourself to escape any harm, this journey through life should be of each one of us, just simply being of who we truly are.
Now if I were to place blame on anything/anyone for all this chaos around us, I would firmly place it on all our so called Leaders of our Government first, then all the Media types which do nothing but keep their agendas of furthering this chaos, just to keep alive the drama from it. Both the so called Leaders and the far left liberal media are working hand in hand, just to keep all the chaos front and center around us, so they can try to seem as powerful as they can, " Power" is all they want and " Power" is the bottom line of their agendas as well. It is time now for all us regular folk, who have been in a coma for way too long, to finally wake up from the coma, so we together can end all this crap and totally hold all the Government and the media accountable.
Ever since our now seated President declared himself a candidate for the high office, all this chaos is just getting worse and worse with every waking day, President Trump is a very wealthy and successful person and those around him within the walls of Washington DC…………….. Well let's just say they are very jealous of him and it is showing with their actions of him. Jealousy is a very dangerous thing, as through jealousy you clearly can not continue forward along your path. These Democrats are so Hell bent on bringing down our seated President, that they quite simply can not do their own jobs, which let me remind you of that, you are elected officials, you get voted in by we the people and you work for we the people, if you can not do that properly, then it is time for you to leave the walls of Washington DC.
With all this collusion crap and all the impeachment talk, you can clearly see that all our elected officials have clearly lost their way and can not do their jobs anymore, plus the fact that all the far left liberal media are within their pockets as well and it shows by just how they bring their so called news to us? There is no such thing as true Journalism anymore, cause when you write for an agenda, you are not a Journalist and I wouldn't even call you a writer either, you are just someone who spills words on a page, just to fill an agenda of hate and drama, instead of being a true Journalist who, writes from the heart and creates words and sentences, to captivate it's audience, without having the reader turn the page and shut you out. Yes there are some real Journalists out there and yes they are true writer's as well, but within this world for which we live, they are far and few between, only because they graduate out of a college, that has filled them with nothing but far left ideologies and the fact of, writing is about making money and has nothing to do with writing from the heart. Now you not only can stay true to yourself and your true feelings, but you can also have your audience be of who they truly are and within their true feelings, now that is what being a true Journalist is about, not of this chaos and hatred within an agenda.
When we all stay true to who we are, when we all stay in touch with our true feelings, the beauty around us all is endless, but when we hide within to escape all this hatred and chaos, the beauty will also hide from us as well, right now we all have been hiding way too long, time to rise up, as Jesus did on the third day, come out of the darkness that we have been in, so now we can all walk within the light of righteousness, totally see all the true beauty, see all the good with no evil, so then we all can walk our paths in peace and bring much happiness to this journey to share with each other always.
Even through all this hate of our seated President, President Trump has done a lot of great things for us the people, not too mention the fact of living up to his promises, unlike some of our elected officials now. The time is now that we start holding them all accountable and letting the far left liberal Media know also, by simply not paying attention to them anymore, I mean it is easier said than done, so we all have too take action, as actions speak louder than any spoken or written word. Throughout all the Government and the far left liberal media, they have become so lazy at doing their jobs, that they simply can not do their jobs anymore, so we the people need to not just step up, but show them that doing their jobs correctly, has nothing to do with chaos and hatred and when we all are on the same page, then the writings will come from the heart and the words of a Journalist, will once again become an art form, that like an Artist, will captivate without harming anyone.
" Jesus didn't show us how to attack one another, this is totally on we the people"
" A true Journalist will write from the heart and will always show within the words they write"
" Chaos, evil and drama are just an agenda and have nothing to do with any kind of writing"
" Instead of hating on someone try uniting with them, you may find good with no evil in sight"